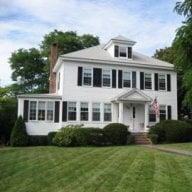 Joined

Nov 19, 2006
Messages

1,286
So, I had my hair & makeup trial a couple of days ago. It went well - I liked the makeup and there were 2 hairstyles that were very nice. I also wanted to try a low bun (will post a few example photos) but I just don''t have enough hair so it looks funny. I was also really tired at this point...
What do you ladies think? Do you prefer the more glam with the side bang? Or the more sweet-romantic pulled back? Should I try to go back and do the low bun with some extensions (she offered to try again for free, I didn''t have the extensions with me...)
What about the makeup? I told her I wanted really natural, and even had her take a little bit off. But in the photos it looks much lighter than in person...
(before and after/glam)