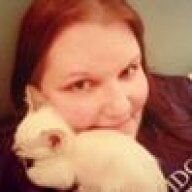 Joined

Aug 4, 2007
Messages

6,770
After considerable build-up (some of which I think was unintentional), James asked me to marry him tonight!!!



I came home from work to see a lovely white potted plant (not sure what kind, I''m utter rubbish when it comes to plants) sitting on the table. He gave me lots of kisses and snuggles, asked about me day, and made me some tea. Later, he told me that he was going to be making dinner which was a secret and that (to keep it secret), I wasn''t allowed to walk past the kitchen until he was finished. Oh man, it smelled so good! He apparently had been going through the cookbooks we have in the apartment to find a recipe with some of my favourite things in it to make for me. He wanted something with mushrooms (which I love but he hates), but in the end made fresh cod with a salmon and cabbage side dish with a Dijon mustard sauce which was seriously out of this world GOOD.

As we finished eating, he grinned, said he was glad that I liked his cooking, and that he had been wondering something and just had one thing to ask me... Then he got down on one knee, said some sweet things and asked. I said ''of course''! I grinned and almost cried but kept it together.

Then we had some celebratory snuggles, and enjoyed champagne truffles in bed. So far only his parents know--we''ll tell mine tomorrow when we''re both together at the airport, I think.

So, that means that number 3 is signing off!!