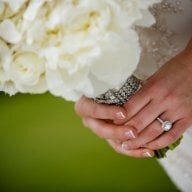 Joined

Apr 26, 2008
Messages

650
Hi Everyone,
I am the first of my friends to get married but many of my bridesmaids have been in other weddings before and talked about how expensive it is- from the dress, shoes, travels, etc. I have tried to be conscious of everyone''s budget and everyone decided the dress budget was ok as were plans to get hair and makeup done the day of, and my FI''s mom even bought the dresses to get them tax free since she is an Oregon resident which was like a 10% discount.
In the next 7 weeks before the wedding FI and I are moving across the country, going to close on a house, and pay for our own honemyoon. Point is, we don''t have a lot of extra $$ lying around. My parents are paying for the wedding and are a bit stretched now given the economy and I cannot ask them to say, pay for the BM''s makeup and I wish I could too but it is not realistic. I have bought the girls nice pearl earrings ($70) each as a gift and my mom is having one of our friends also make necklaces for them for $35 each which feels like such a small token of thanks for everything they are doing.
Reason I am feeling guilty is because I just found out one of my BM''s collected her dress from the alterations place where everyone went to find somewhere cheaper- I think they were charging $90 for redoing the hem, the boning to take in the bust, and the zipper as it was not working well. I hate how expensive these things can get and I know that someday I will do the same things for these girls who I adore so much. I just feel bad... grr... Any suggestions on how to handle this?