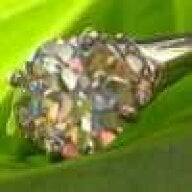 Joined

Jun 26, 2006
Messages

1,879
Hi, everyone. I was working on our wedding website, and there is a place to put the requested attire for guests. We are going for a formal feel...FI will wear a tux, though our fathers may do tuxes or just do suits (haven't decided). I'm definitely going to be very formal. We want a formal wedding...but, we are going bowling afterwards. I don't want this to take away from the formality of the event though. I really want everyone to bowl in their best.
It's kinda part of our "uniqueness"...haha. Okay, we're weird, but I think it will make for a fun, unique, event with GREAT pics. I want men in suits and the women in nice dresses, full-lenth or knee-length, their choice of course.
Anyway, the choices I am deciding between are "cocktail attire," "formal," and "black-tie optional." I'm not really sure which one to choose, or exactly what they mean. I figure "cocktail attire" means suits and short dresses, and "black-tie optional" means suits or tuxes and short or long dresses. Am I right? What about "formal?" I guess I don't understand the difference between "black-tie optional" and "formal." There is also an option for "black-tie," which we aren't going to choose, so I guess that's different from "formal," right? Help me! This is confusing!
Thanks!