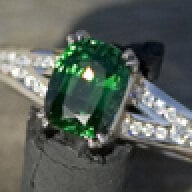 Joined

Aug 3, 2006
Messages

9,613
I''m so excited!
My ex-boss from Italy who''s daughter is going to be my oldest BM (she''s 10) just called me out of the blue, last time we spoke was at New Year.
She and her husband design and manufacture clothes for a number of really high end labels and she has just got 2 new contracts to do all the womenswear collections for two really huge designers.
She asked me if I''d found my wedding dress yet and I was bemoaning the huge UK prices and my horribly expensive tastes - I said my feeling was I wanted something very fitted and with a little chapel train, but with sleeves and in lace and that I rather liked Pronovias.
So, she says, well why don''t you try some on, decide exactly the sort of thing you want - then I''ll get my pattern cutter to cut a pattern to your measurements and you and my husband can go and choose all the fabrics direct from the suppliers and we''ll make it for you!!!!
Then... she says, I tell you what, I''ll even have a word with xxx (one of the major designers) and she if he''ll design your dress for you based round your ideas.

I can''t believe it!

FI won''t see why I''m so excited - and all my work colleagues are male so I had to come and tell you guys first. Can''t see me doing much work for the rest of today!