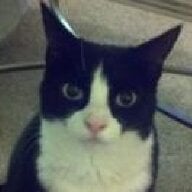 Joined

Aug 8, 2005
Messages

40,225
I need new pots and pans. We are moving next week. And I just want to throw out the pots and pans and buy new ones.

I would be keeping one stainless stock pot.

We have been, until now, buying 1 nice non-stick saute (straight side) and 1 nice fry (skillet, slanted side) pans and getting a Kirkland non-stick set for the rest. It's worked. But I know that there are a lot of new products out there.

I like copper core non-stick saute and fry pans (don't need it on the sauce and stock pots). I had a couple nice non-stick copper core caphalon ones like that. But the durability is an issue on those.

I don't have the funds to buy a high quality full set.

I can keep two of the smaller sauce pans and replace them later.

So, what I really need is a non-stick large stock pot. Ideally two fry pans (one large one medium). One large saute pan.

Do you guys have any recommendations? I'd like to keep this under 300 if possible. If that means buying less pieces (like not getting one frying pan for now), that's okay.