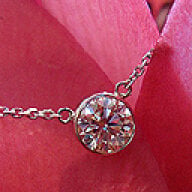 Joined

Oct 30, 2002
Messages

31,003
Well since the proposal is over, I have thrown myself like any good engaged woman should into planning the wedding. First we were considering August 2004 but then since that was too far away and by then I would have driven myself insane with planning options, we are moving it to May 2004 in order to spare my mental state.

Let me just say...it is just ridiculous how expensive anything associated with ''wedding'' is! Especially here in the bayarea where they terrorize you anyway with costs of living and working...this is just another way for them to stick it to ya. But since I''m a local, born and raised, so we just deal.

Anyone else found that it costs $3k to set foot on a nice property to have your wedding but if you were having an 8 hour business meeting on that some property, same patio or room, the cost is mysteriously much lower, such as around $500? Do they have to do special wedding rituals before you get there? I don''t get it!

Then there is catering. We were jazzed to find an outdoor place that was $1k for rental fee, but catering was $90 per person! Compare that against the place that was $5k for rental but only $4k for catering. Somehow those two very different starting out numbers end up equalling out.

Phhhffftt.... That is the sound of my original excitement deflating into nothingness.

I am finding loopholes here and there but what frustration getting there.

Anyone else feel my pain?



BTW theknot.com is a great resource for help, if they have a local board for your area. They do for mine and I have found some great lower cost florists and cakemakers that the girls on there have recommended. Yah! Something positive!