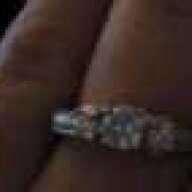 Joined

Nov 18, 2006
Messages

86
hi all! i have been dating my boyfriend for 2yrs now .. living together one! we talk about marriage all the time but never a proposal! at some points i get very frustrated.. i mean i love him with all my heart and i look forward to spending my life with him.. i dont know when the big "E" will come..
Recently his younger sister has gotten engaged and althought i am extremely happy for her.. it eats me up inside i cant help but think .. when me ? when''s my turn?
I feel like for every holiday everyone is saying i think he is gonna give it to you for your b-day? or thanksgiving? or now xmas..before it was oh your going away he is gonna do it then.. it almost dissappoints me when it doesnt happen, i mean i dont expect it but when you have 10 people in your head saying oh its gonna happen soon .. it just happens that way.

I would love to talk to others in similar situations!