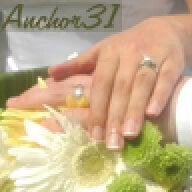 Joined

Oct 18, 2005
Messages

7,074
Hello all!
Subsequently to our day at the bridal show, J and I have won a free consultation with a wedding planner!

The lady told me we could have this consultation whenever it is optimal for us – to get us started, to check on our progress or to review to whole thing once the planning is complete.
With some inspiration from the "Fire your wedding planner" ebook I have, I've created a planning workbook on Excel which I think covers pretty much everything I need to do and need to have, as well as guest list (I can't believe it grew from 50 to 81 – family only!

) and budget managing. I've just realized that we have also have picked (not booked yet) all our vendors except for the dress shop (but I have a list of 6 favorite dresses to try on – all with colour!). So I''m in pretty good shape as far as planning goes.

Do you think we should have this consultation before we start booking or after we have? I don't plan on hiring a wedding planner and I'd like to make the most out of this free consultation. Since we're on a limited budget, her opinion is that we should meet in March once J comes back from Edmonton and before we start booking; she says she may have tips for us on how to save money and avoid unnecessary costs, she could also make sure we're on the right track. I tend to agree with her, I just wanted some outside opinion!
Thanks for your thoughts!