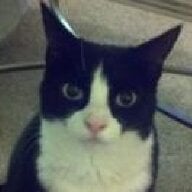 Joined

Aug 8, 2005
Messages

40,225
Hey all. I have four rings I am listing for sale. 2 are mine and 2 are for a friend.
1.
Blue Nile
Garland Sapphire and Diamond eternity in 950 Platinum (stamped). This ring retailed for over $3400 and is retired. I bought it for myself earlier in the year but after wearing it for while, I have determined that I am not an eternity girl. Price is $2000 for it. I've had it checked over by my local bench, polished and all the stones checked and tightened. Sapphires are a very nice blue and the diamonds are H VS. Size is 6. A couple pictures are below. More to follow. Sapphires are 2.8 in diameter. And the diamonds are 2.3 mm on average with a estimated 1.26 ctw.
2. .75 ctw.
bar set
five stone. 14kt WG. I have been wearing this band for a few years and it's time for it to go to its next home. There's nothing wrong with it at all, I just have bought a new band so it's time to sell this one. I had it polished and re-plated earlier this year, but it has been worn since. I did have the stones checked just this week and they are secure. If you want it re-plated by my local bench, I can do that for you at my cost added to the ring price. Price on this one is $800. Size is 6.5. Stones are 15 pointers at approximately 3.3-3.4mm each and they are H color and eyeclean (VS-SI). That is also the width of the band. Pics to follow. I didn't have any right now. Rings with similar carat weight and metal (although this is not bar set, like mine is) retail for 1680:
http://www.bluenile.com/luna-five-stone-diamond-ring-14k-gold_37321?elem=title&track=product
(I don't know why the dimensions on this one are so slim. The stones alone are 3.34mm if they are 15 pointers like mine, still).
3. Parade vintage style yellow and white diamond ring. Two tone white and yellow gold. I have the stock photo for this band. It is attached here. And it has been worn twice. Once on the day it was gifted to my friend. And the second time on the day she wore it to give to me to sell. She wears very modern pieces and this one was not her style. This ring retailed for $2,400. It can be yours for $1200 OBO. It is a size 6.25. Serious offers only please. It is as close to new as you can get in pre-owned.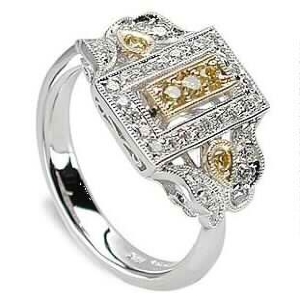 4. Diamani Diamianissima Band. All the links have diamonds except the large one. Just like the stock photo I've attached. Retailed for $3890 at Nordstroms. It is a size 9 and it is a wide. "Elegant logo links cast in 18-karat white gold connect to form a handcrafted band illuminated by diamonds. Color(s): white gold. Brand: DAMIANI. Style Name: Damiani 'Damianissima' Diamond Ring. Style Number: 318163. Manufacturer part number 20023963." It can be yours for 2000 OBO. Serious offers only please. Stock pic below. Real life pics to follow. It has been worn and I have not had it polished. It should be taken to a Diamani dealer for a polishing service and the nearest one to me is too far, frankly. I did not want to void any warranty by taking it some place local. There are similar bands selling on ebay right now for $2,400.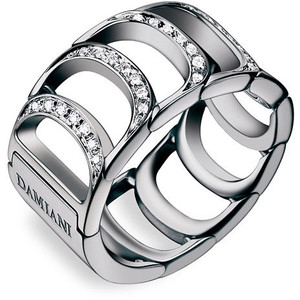 This is a "Heads up" posting. I will be listing all of these on DIamond Bistro in the next couple days (over the weekend) with additional pictures, including handshots. If you want to reserve anything before then. Just let me know here.
Within the US shipping is free. Outside the US it is not, please contact me for a quote to your country. I will ship to Canada, England, Scotland, Ireland, Australia, Germany and France. If your country is not on that list, contact me and I will see what I can do.