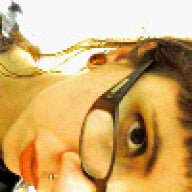 Joined

Jul 26, 2008
Messages

5,346
If you gals and pals are chocolate lovers like myself then you have to try Vosges: Haut Chocoat.

I was at Whole foods yesterday and I saw these little bars with really crazy ingredients, so I picked a few up to try.
OMG they are so delicious. I got...

Black Pearl Bar: Ginger, Wasabi, black sesame seeds in Dark chocolate
Gianduja Bar: Almonds Carmalized hazelnuts milk chocolate
Woolloomooloo Bar: Roasted and salted macademia nuts, indonesian coconut, hemp seeds, milk chocolate
Naga bar: Sweet indian curry powder, coconut flakes, milk chocolate

They are so delicious. They make a white chocolate one with kalamata olives and another ingredient I forget, but I want to try that one too (my friend said for as crazy as it sounds it was tastey)
I think my favorite is the black pearl bar, just the ginger and wasabi really tastes delicious with dark chocolate... go figure!

So if you see them in the store try them out, and if you know any other good chocolates I''m all ears!