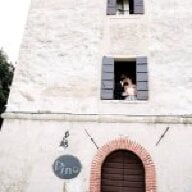 Joined

Nov 15, 2008
Messages

3,309
Am I having my first bridezilla moment?

I am researching locations -- online only thus far, haven''t spoken with anyone, perhaps that''s the issue here. To give a little background, FI and I live in NY. He is from the U.S., I''m from Europe and my whole family lives there, too. The wedding will be in Europe in the late summer/early autumn 2010. Italy and France are front-runners right now. I am a huge Italy fan, having spent a lot of my childhood there, but FI is much more in favor of France and since he feels like a wedding in Europe is a significant compromise for him (and in truth it is), I''d love to not steamroll him on this one and pick a French location that makes him happy.

Now, my dream wedding is in a vineyard -- a symbolic/humanist ceremony under trees and a reception under the evening sky outside, all of this extremely laid back, more like a really great dinner party with amazing food and music but not formal at all, more like a garden party. Basically, I want a relaxed California wine country wedding, but in France. The issue is, all the French wine country wedding venues I see online are chateaux that are all about "fairy tale weddings" with grand entrances, horse drawn carriages, "king and queen for a day," etc. Well, "fairy tale" is not what I have in mind at all, it''s not me. It just all seems way too formal. And frankly, for all the formality of the events and photos I see, I don''t even like any of them. I don''t think anything looks like it''s executed with a particular sense of detail. Perhaps the photographers just aren''t that great, or not the style I''m looking for. Or maybe it''s just that European wedding planners aren''t that up to speed on how to build a fabulous website that really showcases their work from the best angle. Could be any of those.

Anyway, the issue is, I feel like I go through pages and pages of Google search results only to remain unimpressed with the pictures I see and not really get anywhere. Do you think the problem is that I actually need to start talking to people in order to get a better picture and more locations suitable to my tastes than what I can discern online? Does anyone have any recommendations for European wedding planners, first-hand or second-hand or third-hand?

I can see that I sound a little whiny here. Also, it''s a long post. I''m sorry. I''m just a little frustrated.