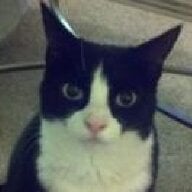 Joined

Aug 8, 2005
Messages

40,225
We had a lot of gift cards left over from the wedding and I've really been meaning to use them to buy furniture, but haven't felt up to it. Plus, I've been torn on what direction to take the living room in.
We have these inherited couches that just WILL NOT DIE. They are really high quality leather (read: last for freaking ever) but they are BLUE. Like a Grey Navy Blue. So originally I wanted to replace with the gift cards them because well... I really hate them. But... they are still in good shape (after over 20 years, good leather really does last for ever) and what we REALLY need is occasional tables, and entertainment center and a new area rug.
I generally have to fight myself when I am buying furniture because my taste runs to formality too easily. So a couple of weeks ago I saw this rug on C&B (where we have a ton of credit) and it got the wheels turning.
http://www.crateandbarrel.com/family.aspx?c=1264&f=31147
It will work with the stupid blue couches NOW, and later when I get the brown sectional I want... it will still look good. It's VERY affordable, and being synthetic, pet friendly plus it's FUN and YOUNG. It's perfect to replace the beautiful, but very expense and FORMAL Persian rug that currently graces our living room.
So we bought it.
Then we started looking around for coffee tables, separately, John went one way, I went the other. We were both fascinated by the same strange UNIQUE table that oddly enough had all the things we were looking for... it's cat proof (not wood top), it's round, it's not too low, and it's NOT formal or stodgy. It was over budget, but... we sat there for a while talking and just decided to go for it.
The picture does not depict how cool it is at all because unless you zoom onto the top of the table, you can't see the really good color gradations and patterning.
http://www.crateandbarrel.com/family.aspx?c=985&f=30898&q=tava&fromLocation=Search&DIMID=400001&SearchPage=1
So, we bought that. And were giddy because it's really a 'statement' piece. And funky and solid.
THEN... I saw that they had a floor sample sale section and I saw these... they were a little scratched up on the legs, but as long as I put those legs toward the wall... no one can tell.
And they worked really well with the rug. AND for a 150 (that's what they were marked down to), I got three side tables instead of one. They are a little too tall for the current couches. So I will probably only be using the smaller two right now. But for the price, I couldn't pass them up. They were really cute. And again... FUNKY and FUN!
http://www.crateandbarrel.com/family.aspx?c=982&f=29409&q=nesting&fromLocation=Search&DIMID=400001&SearchPage=1
If the colors don't work in the room, I plan to pop out the mirrored tops (they come right out)and paint them with metal paint to match the coffee table in color. But I don't think that's going to be really necessary. I don't like things too matchy matchy in general.
I think I'm going to recover the dining room chairs (or ask my dad to do it, since he's good at it) with some fabric that coordinates with the rug and has some pattern to it. I bought some fun candleabra at Z Gallery I've had my eyes on for a while (and they were 50% off plus another 20% so I got them for a steal).
So... now I need an entertainment TV stand to fit with the new stuff, and our TV we got for Christmas (40 inch flat panel). And some throw new pillows (Anna's Linen's and TJ Max and Marshalls will be my haunts for those).
Anyone got any ideas at all for entertainment centers for this eclectic furniture I've now got?
I don't want to spend more than $300, an willing to paint forged metal to match the coffee table, and will be hitting Pier One and IKEA as my first stops, most likely.
I already have table lamps that work perfectly with this stuff, but would like a torch lamp as well in this room too. Budget is 40 bucks max for that.
And I'm trying to figure out if these will work on the walls for the room... but don't think they will unfortunately. So I'd love some cheap circular shaped funky wall mirrors.
http://www.crateandbarrel.com/family.aspx?c=1420&f=29124
All in all. I have more NO gift cards left with C&B, but still have some for BBB and Macy's. So... that's where I prefer to get stuff. Since I'm trying to do this all without actually spending more that couple of hundred out of pocket.
Macy's furniture is the pits in terms of delivering things... so I'd rather not have to order anything from them, cause it will never ever ever get here. LOL.
Any help???