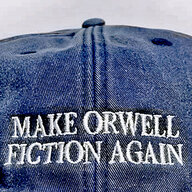 Joined

Apr 30, 2005
Messages

32,503

Kudos to Mattel!

Unfortunately they are still making the (IMO harmful) impossibly-thin Barbie.
At least this is progress.
http://www.industryweek.com/growth-strategies/mattel-gives-barbie-body-image-update
Partial snip:
"NEW YORK—Barbie, long the stereotypical blue-eyed blonde bombshell, has been given a makeover.
The iconic doll will now be available in three new body types--tall, petite and curvy.

The best-selling doll's manufacturer Mattel announced the new looks Thursday, ending a 56-year-old tradition of Barbie having just one physique: unrealistically perfect.

The new dolls join Barbie's Fashionista line, which will now feature four body types.
It will also have seven skin tones, 22 eye colors and 24 hairstyles--an acknowledgement, belated for some, that women come in many sizes and shapes."