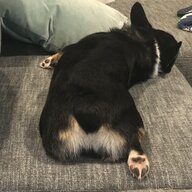 Joined

Jan 4, 2019
Messages

1,060
I have about 4/5 of an acre in a suburb of Seattle. I need some kind of fencing done next year. Way too many loose dogs have roamed onto my property and some of the neighbors in a rental duplex down the street have let their dog into our yard to do their business.

We were thinking either a "green fence" with t-posts and wire as an additional barrier. The pros are this is DIY territory for us because it's essentially gardening and I love that.

Another option is a cedar privacy fence We got some quotes and to do 2 sides (one side has fencing already and my husband and I can't agree on what to do with the front) and that will cost about $16k. My husband refuses to DIY this.

I'm leaning toward green fence but am not really a fan of the arborvitaes I've seen used. Can I get opinions? My main goal is to keep my dogs in our yard and to keep other dogs/ people out of it.