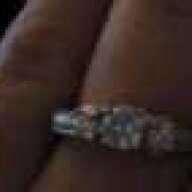 Joined

Nov 18, 2006
Messages

86
To have a person i really dont want as a bridesmaid! i honestly feel you should have the people you want in your wedding that you shouldnt feel obligated to please a family member by putting there significant other in the wedding.

This person is supposed to be the bestman i dont see what putting his FI in the wedding will do they wont be together.

I really only have family and my two best friends in my wedding my bridesmaids is already up to 5. I did not pressure my hunny to put anyone in the wedding on his side. my brother isnt even in my wedding, which is ok i mean my brother has no hard feelings about it.

What is everyones take on putting someone in your bridal party to acommodate someone already in it?