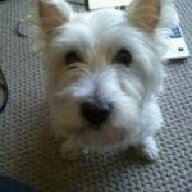 Joined

Mar 3, 2009
Messages

351
I feel a little crazy....
Probably because BF has been telling everyone he knows about how when we get married we''re doing this and doing that. He has been telling people about how he''s going to "do it". And now I feel out of the loop. Don''t get me wrong, I think it''s great he has a plan and wants to surprise me...but I am sooooo impatient!

And it kills me that everyone knows and I have no idea. I didn''t even know he already had plans until last weekend

.
I think this stems from him telling me last night that he told a childhood friend about the proposal (not to mention his whole family knows now). Then all of sudden I wanted to know everything! Even crazier is that we really haven''t been together that long. I was reading the Q&A and saw that most of the LIW have been together for 2 or more years---we are not even close. It''s not the time that matters to me, I know it''s right. And as another LIW said to me in my delurking post, I spent my time waiting for BF with other Mr. Wrongs. In fact, I married a Mr. Wrong so I know what I want and what I do not want. It''s just crazy that after such a short time I''m so sure. And so is he.

To top off my LIW craze today, BF called me and "booked" me for the weekend after my birthday for a trip somewhere special. He demanded 4 days to take me somewhere. (We have a tendency to book each other and surprise each other with trips. I started it. He didn''t figure out where we were going until I checked us in at the airline kiosk

) I have a feeling we are going to his hometown so I can meet his parents

. He brought up two nights ago that I needed to meet his parents before he can buy that special something to ask me with

. Our plans were to go in Spring or Summer. Next month is my birthday. So it''s spring, the timing fits. And he has told me that he wants me to meet his parents before he moved in. I am pretty sure his hometown is where we are going, especially for 4 days
Ok, and this part may just be my LIW brain going wild, but yesterday at work, I was browsing Leon Mege''s site. And BF asked me what I was doing, so I said window shopping via internet. He asked what I was looking at, I told him jewelry. Then he wanted to know what site. When I got home from work, he casually brought up that he thought Leon''s stuff was great but it might be a bit costly....

Now why was he looking at Leon''s site? He just said he was curious at what I liked he kind of mentioned a few styles, I think he was trying to judge my reaction.
So...am I crazy? I think I''m crazy.