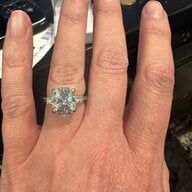 Joined

Nov 12, 2011
Messages

956
Ok so I am one of four sisters, mostly we all get along so well. 34, 32, 28 and 26 years old we are. I'm 32. Well, my youngest sister is and has always been a little over indulged, never really worked or done much of anything hard in her life, she went from family home to marital home and continues to be over indulged and spoilt. Now whilst I'm ok with that (mostly) I can't stand the way she thinks and openly acts as though she's better than others. She And her husband are very driven by money and putting themseves first no matter what.

I feel maybe this sister is the instigator... I don't know...

Well this weekend I Found out that about 2 months ago my three sisters and some mutual friends planned a girls weekend away, no one told me..... My oldest sister couldn't go as she's got a tiny baby and they wanted no kids - I get that. Then the same older sister said to the others "well if the three of us are going we should ask Lauren as she knows the other girls equally as much" no response or discussion to include me....

Well I can't help but feel totally gutted. How effing rude and selfish were my thoughts. I struggle anyway with my self esteem and for my own sisters to do this (and yes we do have a good relationship) is just heartbreaking.

I am unsure if I address this or leave it?

I could rattle on about the ins and outs but I don't know who to talk to. My parents defend her every move do I can't go there.

I'm happy to leave it but I'm struggling to know if I'm over reacting or if I should address it.....