Hello, I'm considering selling my Cartier Love Cuff and Pasquale Bruni Ring. I wanted to see if there's interest here and if so, I'll set up a LT listing with my contact.
Cartier Love cuff is in RG size 17. Worn mostly prior to the pandemic. Hardly worn since then. It's in excellent condition with minor wear. Sale includes box and COA. This item was bought at Rodeo Drive. Selling for $4400
Also selling my Pasquale Bruni ring from the Secret Garden Collection. The ring is 18k RG with champagne and white diamonds totaling 3.10ct. The ring is crafted precisely to fit the contour of your finger. The ring size is 55 which is size 7 In the US. Bought late last year and only worn to a few charity galas. It's in excellent condition. Selling for $12,230.
Prices include USPS Priority Mail Express Shipping with insurance and signature required upon delivery. I can also use FedEx and have it delivered to a holding location.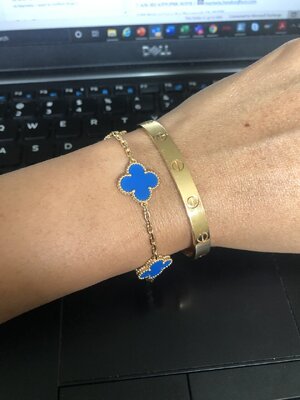 VCA Alhambra bracelet not for sale