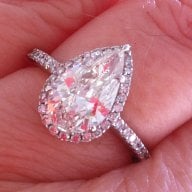 Joined

May 23, 2010
Messages

6,731
Carly Fiorina made headlines saying this about a Planned Parenthood video:

"Anyone who has watched this videotape — I dare Hillary Clinton, Barack Obama, to watch these tapes — watch a fully formed fetus on the table, its heart beating, its legs kicking, while someone says, 'We have to keep it alive to harvest its brain.' This is about the character of our nation, and if we do not stand up and force President Obama to veto this bill, shame on us."

Yeah, well, turns out that's BS.

Full article:

https://www.yahoo.com/health/fact-checking-carly-fiorinas-debate-statements-on-183132587.html

Excerpts from article:

To date, there have been a total of 10 highly edited videos released by the Center for Medical Progress. Two of the 10 feature footage filmed undercover at a Planned Parenthood affiliate clinic. None of the 10 feature anyone — Planned Parenthood personnel or otherwise — saying, "We have to keep it alive to harvest its brain."

The video of which Fiorina speaks, however, does not exist.

Fiorina's impassioned, authoritative argument for the defunding of Planned Parenthood was one of the most notable moments of the three-hour-long debate. It's too bad, then, that what she chose to say in that moment is false.

Because the bulk of the federal funding received by Planned Parenthood is for Medicaid reimbursement, and

no federal funds

may be spent on any costs affiliated with abortion care, defunding Planned Parenthood would primarily harm those Americans whose income level qualifies them for Medicaid, and those low-income households who fail to meet Medicaid limits and cannot afford insurance — but can receive preventive health care services, including cancer screenings and contraception, on a sliding scale based on need.

Thanks for the sisterhood, Carly.
Another article:
https://www.yahoo.com/health/undercover-anti-abortion-video-showed-images-of-127289829487.html
Undercover Antiabortion Video Showed Images of Stillborn — Not Aborted — Fetus

On Friday, the Center for Medical Progress (CMP), the antiabortion activist group that has been releasing undercover videos targeting Planned Parenthood, the practice of fetal tissue donation, and later-term abortion, has admitted that images shown in its most recent video of a fetus of approximately 19 weeks gestational age was not taken at a Planned Parenthood affiliate clinic, as heavily implied in the video.

The Center for Medical Progress posted a new link on the video's YouTube page late Thursday, adding that one of the images was actually of a baby named Walter Fretz, born prematurely at 19 weeks.
This whole issue makes me sad, but I think it's important that we realize people are lying and being manipulative.