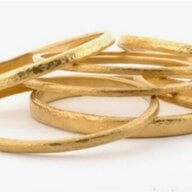 Joined

Jan 26, 2003
Messages

22,108
I started a thread on freshwater pearls in the jewelry section, but I find I want some expert advice.
My experience with freshwater pearls is limited and I have seen claims by vendors which I find hard to believe. Am I just a cynic?
One site in which I was interested said that their freshwater pearls were untreated in any way.
I have read that the mussels used to produce these pearls *can* create pearls in different colors. On the other hand, I know that all Akoya (saltwater pearls grown in oysters) are bleached.
What do you think of a vendor who claims his freshwater pearls are not treated?
I have also seem some huge price diescrepancies supposedly based on whether the pearls for sale were "gem quality" or not. I have found no objective criteria for what makes a pearl "gem quality". (I have not even found who grades these pearls as AAA or B or whatever. Who does it? The vendor?)
What is the difference between these sets of pearls that makes such a huge difference in their price?
http://cgi.ebay.com/ws/eBayISAPI.dll?ViewItem&item=2634106061&category=3844&rd=1
http://cgi.ebay.com/ws/eBayISAPI.dll?ViewItem&item=2632733867&category=3844&rd=1