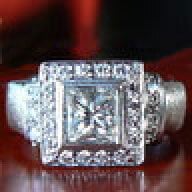 Joined

Dec 9, 2002
Messages

2,224
I''m a big old dork, and such a kid when it comes to Xmas. My DH is hard to buy for & he doesn''t like me to buy him stuff that is too nice because he''d rather spend $$ on me, and he travels for work, so he''s lost an expensive watch I gave him, his iPod (but the hotel fed exed it home to us *phew*), a nice pair of shoes, his Coach belt, so as you can see, I''ve given up on expensive gifts for him.

He''s a corporate guy at a heavy equipment corporation, so while he''s Mr. Professional...he has to wear rugged clothes because he winds up on huge pieces of equipment all the time. (I swear, such a great job, he loves it--its the equipment) So I can''t even buy him nice clothes for work, because they''ll get trashed. He does keep nice clothes for home when we go out, but that''s no fun to give to a "guy''s guy".

So, since he travels (and is sad because he might get to play with his PS2 for an hour a week) I got him the new PSP & the Madden 07 game. (he only likes the sports games). He doesn''t get a chance to play at home because he''s not a TV junkie & would rather work in the yard or spend time with us, but he gets bored in his hotels, so I thought this would be a great gift.

Now lets hope he doesn''t LOSE it! LOL!!!

Jeannine

Oh and I can''t wait for my son''s 2nd birthday next week. I was able to get an ELMO TMX when they first came out & its killing me sitting on it! I also got him an amazing train table & Thomas the Train & Brio set. Its KILLING ME waiting to give them their gifts! I buy early since I have my mom''s bday, my anniversary, my son''s bday & xmas all in the same week! EEK! So to keep myself from having a huge budget crunch in December, I buy most of my gifts in Sept & October. Its so hard keeping the secrets and keeping them hidden. I''m a bigger kid than my kid and can''t wait.