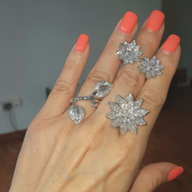 Joined

Oct 5, 2006
Messages

9,851
A recent thread about bling and the recession got me thinking that perhaps I should have spent less on clothes, shoes, handbags etc. so I could have put that money towards more bling instead - whilst still keeping our overall discretionary spending within a certain limit? Honestly, even though I don't spend that much money on such things in general these days, I keep thinking about how I could have got more bling or upgraded my bling if I hadn't spent the money on these other things instead. I tend to wear the same clothes and shoes generally and carry just one or two handbags on a daily basis (except for the rare special occasions).

My best friend however, only owns two items of bling, one 1.6ct Tiffany Lucida and a Tiffany eternity ring. She's wanted a pair of diamond studs for years and still has not got them. In the meantime, her hubby and she herself spend thousands (I'd guess, don't really know for sure) on designer clothes and shoes and to a lesser extent her handbags. They have a wardrobe that would make most fashinista's green with envy. Well, actually, they have one huge walk-in wardrobe and a guest room which they fill up with their stuff. I think between them they must own about 300 pairs of designer shoes. They don't wear anything but designer gear. Granted, they look really beautiful (well, they are beautiful people anyway) in their designer outfits, but I keep wondering why they haven't got round to buying her a pair of studs and all she wants is a 1-1.5cttw studs (she has tiny earlobes).

I guess each to their own, huh (?)

What about you?