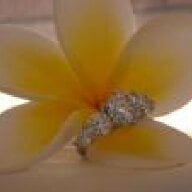 Joined

Jan 17, 2009
Messages

2,692
Hi Everyone
I have been officially engaged for 2 weeks now and already the woes have started.

I wanted (and i thought FI did too) to have an engagement party where all our friends and family would come together and finally meet each other for a good night. We had planned to have it in our back yard and even though it is not completely finished and there is still a bit of work to be done it was possible to have it ready by the end of March for our party, before the weather got yukky.
Anyway we had planned as far as writing the guest list, figuring out what we needed to do before the party and telling a few friends when it was happening.
All was going fine till i mentioned to the mother in law yesterday that we were going to have a party and i asked her who she would like to invite. The answer was no one. (she invited absolutely everyone to her daughters engagement and wedding last year... including her hairdresser). I thought it was a little weird but put it out of my head. Then today she said that she would hold a dinner for her family and i could ask my mum, but no one else to come. To save having to have anyone from their side of the family at the engagement party.
I spoke to FI about it and i said it was a little silly since i would still have to invite my family to our party. We ended up coming to the conclusion that it was all too hard to have the back yard done in 5 weeks, and organise a party and have a seperate dinner inbetween.. He wants to put it off till later in the year when we we are heading to summer again and i just disagree because i don''t feel like i should be having an engagement party so long after we got engaged.
His mother suggested that she do something for their family and my mum could do something for ours but i just feel that there is no point as it defeats the whole purpose of having an engagement party (you know family meets family).
My FI was engaged once before and his sister threw them the party at her place and now his family doesn''t want anything to do with ours.
So now i feel like crap and that our engagement isn''t even important enough to celebrate.