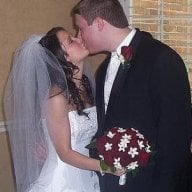 Joined

Jun 8, 2006
Messages

865
This past Saturday we had our engagement party/ornament shower and it was sooo much fun!!! My parent''s hosted it and the house was beautifully decorated and the food was delish! My dad made way too much food of course, but we''ve been enjoying left overs all week.
After dinner and visiting we opened our gifts and we got so many wonderful Christmas tree ornaments and my parents even got us a few Christmas decorations next year for our house. I love Christmas so I know I''ll have a lot of fun making our home festive. My FMIL/FBIL gave us a joint gift of a mini rosemary Christmas tree with the "Bride''s Tree Ornaments" from Germany. FI is part German so it fit well. There are many different ornaments ranging from a bird, to a rose, to a pine cone even. Each of the ornaments symbolized a different meaning. When I get more time I''ll type out them all for you. All in all it was a lot of fun celebrating with everyone. My Dad gave a toast and it was very special!

Now I''m ready for the big day...well not quite, but mentally I''m ready!
P.S. We got NO "First Christmas Together" ornaments surprisingly! I''m thinking everyone thought at least someone would do that and that we didn''t need more then one!
Here''s a few pics to share! Enjoy...