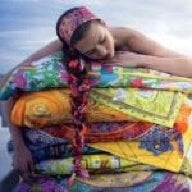 Joined

Oct 21, 2007
Messages

2,216
Hey Ladies,
just thought I'd share what we're doing for our guest book in case anyone likes and wants to use the idea.
Since we're having a DW in Mexico, we thought to put some postcards in everyone's welcome bag to use. One of them will be pre-stamped and addressed with our info on it. The plan is to have our guests write a short message on the post card sometime that week and mail it to us. When we get back from our wedding/trip, we'll hopefully have a bunch of postcards we can then turn into a scrapbook/guestbook.
I had a hard time finding Mexican postcards online so I went to vistaprint, uploaded a photo I took on a previous trip to the Mayan Riviera, and had them print into postcards.
We got 100 postcards for about $28.