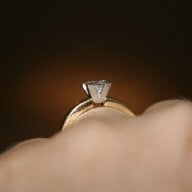 Joined

Oct 30, 2006
Messages

133
I am so upset I want to be sick! My wedding is in 2 weeks and my dress was being made, it is a simple silk satin and georgette gown empire cut, with a cute bias hemline. I went to have a fitting today, NOTHING about the dress was correct- except that they used the fabric I purchased for them.

It was so horrible- the sewing was terrible- the fabric is totally back to front and INSIDE OUT. The put the georgette on the inside and the satin- matte side out on the outside- Back to front! the hemline was wrong, the neckline was horrid, the zip was not where it was supposed to be, the halter was supposed to tie up, it didnt fit at all! I am so upset, just wanted to vent.

Hopefully it can be salvaged by the shop owner herself- I will know by saturday- otherwise I have to try and buy something off the rack- not easy considering I am Australian, living in Singapore and cannot stand the local styles, much less fit them.