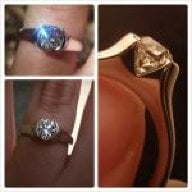 Joined

Oct 2, 2008
Messages

4,946
After seeing VintageLover's gorgeous lace ebay find, I scoured ebay for dresses to help a friend of mine with a low budget. I found a dress that she LOVES, but I'm not sure that the listing is trustworthy.
If I had to guess, this dress is a real dress that is likely designer...anyone recognize it/the model/the photography style? I'd love to find the real deal as the listing is for a dress maker and there are warnings within the listing the the dress is made by the photo and may not look the same.
Here is the listing:
http://www.ebay.com/itm/Beautiful-A-line-Short-Tulle-Lace-Custom-Wedding-Dress-Bridal-Gown-Size-/160699940098?pt=Wedding_Dresses&var=&hash=item6b1ca1892e#ht_7157wt_1009
Photo attached.

Any help? Advice? Direction?
TIA! You ladies are awesome.
ETA: When you click on the link it says $5, but if you make a selection it populates with $153. Strange.