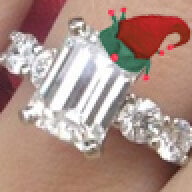 Joined

May 2, 2008
Messages

4,125
I had my second dress fitting today . . . and my dress was too tight. I am so bummed and felt totally embarrassed when I was trying it on. The seamstress (very kindly) asked me if I was having my period, but I wasn''t. My beautiful dress looked so lumpy, and it was pulling in all the wrong places.

When I got home, I immediately tried on my skinniest jeans (I don''t weigh myself, so this is how I keep tabs on my weight), and they fit just fine--not too tight at all. I''m not sure what was going on. My seamstress insisted she only took it in as much as she had measured at my first fitting, and she is very skilled, so I don''t think she made a mistake.

I have no idea whether I should try to lose some weight, and if so, how I should go about doing so (I''ve never been on a diet). I am worried my dress won''t look pretty and that people will wonder why I chose such an unflattering gown.

Has anyone else felt this way? Any words of wisdom for me?