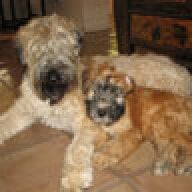 Joined

May 21, 2006
Messages

551
Hi everyone, it''s been a while since I''ve been around, but I am in need of serious reassurance! Went to finally pick up my "dream dress" last weekend, and ended up in TEARS (big time!). This is a Marianne Lanting that I bought at a trunk show back in August. I had the dress completely redesigned and semi custom-made by Marianne. Unfortunately is NOT right and I am definitely having a bit of a break down!!
First, the background:
I wanted an organza overlay with ribbon hem. I wanted a pink and white sash (separately so I could trade them out). And I didn''t want a HUGE backside.
OOPS. I got most of what I thought, but just with a bunch of errors. Marianne is being INCREDIBLY helpful in fixing them, but I''m still freaking out a bit!
Here is what I have so far. The problems are:
1) it is HUGE!! (The bridal shop tried to tell me I must have lost weight...I DEFINITELY have not!!! It needs major alterations, although you can''t tell much from the pics)
2) The ribbon on the bottom hem is not thick enough. Nor does it match the white sash (different color whites). You can''t really tell either of these in the pictures.
3) I originally only wanted the organza overlay on the skirt and not on the bodice. The finished dress has organza on both, which I have decided that I''m okay with.
4) I HATE the backside. Keep in mind the pictures are of the UNBUSTLED dress and it is WAY too poofy. They are trying to fix this.
Oh, and keep in mind that I may end up tying the sashes with the bow in the back for the actual wedding (all of the pics are with them tied in the front)...
SOOO... what do you guys think? Fixable?? Awful??? (BTW, I tried to edit out my awful tearstained face... try to ignore what you can still see!!!)