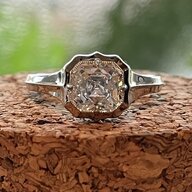 Joined

Mar 2, 2013
Messages

6,254
Doing some decluttering around the house, and I have this vase (from where I obtained it, I cannot recall ...
possibly
given to me by a friend ages ago when she was moving, but I'm really not sure). It's Doulton Lambeth, circa 1882, and my research thus far indicates the artists to be Eliza S. Banks & Annie Gentle.
I don't have any specific attachment to it nor do I really care much for the style itself though the neck is pretty interesting/unique; however, before I decide to place it in a yard sale or donate box, I want to make sure I'm not just giving away a small treasure, as I understand D/L pieces to be somewhat collectible, especially when they're pre-1900. This one stands approx 9.5" tall.
It has one small chip on the base. Also, I suspect that the reddish color possibly *may* have been added/painted on after production. The texture feels just ever so slightly different than the rest of the glazed parts, and it's not executed with the same level of precision as the rest of the piece. But not being an artist in ANY sense, I am really not sure. Thoughts (see pictures)? If it was added on post-prod, I may be interested in having it removed (if possible) to see what is under it before I decide to sell or donate.
I've googled D/L vases, and seen them go for prices all over the place, but since they seem to largely be OOAK, I have no idea how to value something like this either to sell or for donation purposes, so any input or sources on that would be helpful also.
Thanks much, in advance, for any insight or opinions on if it's trash or treasure. I know this isn't the norm for this forum; however, I figured it was my best chance of stumbling across someone with some insight, given the diverse interests & hobbies of PSers.