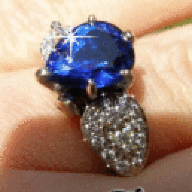 Joined

Feb 27, 2006
Messages

935
I''ve decided that for the sake of my dog, I''m going to talk him 2 miles per day (2 walks)
We are battle diabetes together!! His sugar is finally normal today!! But unfortunately the irregulated sugar has taken a toll on his eyes and now he''s completely blind and it happened almost over night!!


His blood glucose was 637 when diagnosed a month and a half ago and today I tested it this morning and it was 119!!
I have to be his eyes, people can hardly believe that he''s blind, he''s doing so well for only a week and a half, newly blind.
Also my new thing is to walk a nature walk 5 miles long each sunday, on top of 2 miles. So over 20 miles per week I''ll be walking, not really changing my diet, but just getting in shape. I sleep sooo good every night.