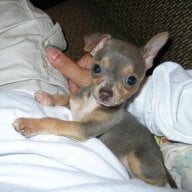 Joined

Dec 16, 2007
Messages

5,184
Last night we had a really scary incident with our young Chihuahua Diesel (age 3, pictured in my avatar).
Diesel was sleeping in his cage, when he began to scream a little. We figured he wanted out to play, so we let him...took him upstairs to our room, put him on the bed, and let him play. He was snuggling and cuddling, when out of nowhere he began screaming again frantically. He wouldn''t let us touch him, and he didn''t move at all...only tucked his head and pulled his shoulders upwards. Panicking, I placed a hand on him, and he was trembling pretty hard--but not shaking--more like shivering. The entire incident lasted about 3 minutes. We were frantic trying to figure out **how** to soothe him. The screaming subsided for a moment and Mark eventually scooped him up and took him outside, thinking he needed to go to the bathroom. He went both 1 & 2 and had no trouble doing either... When he came back inside, he still refused to walk, head tucked and should haunched. It took about 2 minutes for him to warm up, but when he did, he was his old self again...running, jumping, and playing...only very thirsty.
What could this have been? Has anyone ever seen or heard their dog act this way before? Am I making something out of nothing?
TIA