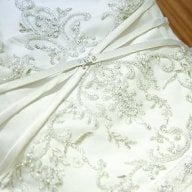 Joined

Aug 16, 2007
Messages

3,445
I apologize for how long this will be. I have been doing some research, but some first hand experience/suggestions would be appreciated.

My husband and I will be going to visit my bil and sil for Easter, and taking our dog Brandy. They have a 1 yr. old rotty/german shepard mix, and in the past, our dogs have not really gotten along, so I''m looking for suggestions on how to help them interact well.

Here''s the background: Our Brandy is a 5 year old Beagle that was a rescue. She was abandoned, so she definitely has issues. She is most happy laying next to/on top of either dh or me. She is definitely a lap dog and is very attached to both of us. She is scared of all new people and situations, to the point where she shakes, has her tail between her legs, tries to run away, etc., until she''s had time to get used to who/whatever it is. She is also afraid and sometimes aggressive towards other dogs. On walks, she will pull on her leash in the opposite direction of the dog with her tail between her legs, but then after the dog passes, she''ll turn around and try to run after them. When she is forced to interact with other dogs, she will do the whole sniffing cautiously thing, she''ll tentatively allow the other dog to sniff her, and then she will back away. If she can''t get away from the dog or the dog tries to play with her or just won''t leave her alone, she will growl at it. If the dog gets aggressive in return, she has escalated things to an all out fight.

My bil''s dog Raja is still pretty much a puppy, but is already much bigger than 20 lb Brandy. They met over Christmas at my dad''s house. Brandy acted just like I described above, she would let Raja sniff her, and then Brandy would run behind one of us or jump up on the couch. If Raja continued to come near her (Raja definitely wanted to play and is a very friendly dog), Brandy would growl. In this case, Raja would be scared by Brandy''s growling and would go lay down or run behind bil/sil. It was easy to manage at my dad''s house, but at bil''s house, we have 2 major concerns.

1 - we are afraid that since it is Raja''s house/domain, if Brandy growls at her, she will not react submissively but instead get aggressive. Do you think this is likely? If so, any suggestions on keeping both dogs from getting aggressive?

2 - bil doesn''t allow Raja up on the furniture. Brandy is used to being allowed wherever we are with the exception of beds. If she can''t escape Raja''s playful overtures by jumping up on the couch, we''re afraid that will also cause more aggression.

We will definitely be bringing Brandy''s crate in case they need to be separated the entire time, but we''re hoping it doesn''t come to this. We also plan on having the dogs greet each other outside in a neighbor''s yard and walking with them a bit before going in the house to hopefully avoid the territoriality. Any other suggestions?