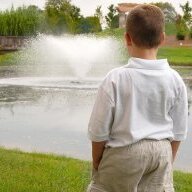 Joined

Feb 20, 2006
Messages

224
For those of you already engaged, did your bf know what kind of proposal you wanted before the actual proposal?

What about you LIW''s? Does your bf have an idea of what you would liike?

I mean, does he know if you want it private or public? Have you given hints to any details?

It just dawned on today that hopefully that special time is coming soon, and I have no clue what he might do. I really still think we will get engaged over the holidays, but we will have no time alone. Christmas Eve and Christmas Day will be filled with family. And on New Year''s Eve, my 8 year old son will be wherever we are. I just don''t think I''d like it to happen in front of family. I think I''d rather it just be the two of us. Then again, I''m sure I will be so happy that it will be ok to happen anywhere... it''s just if I had my preferences, I''d rather be alone. I''m sure he has no idea I feel this way as it has never been discussed. I don''t want to just come out and tell him because I have taken an oath as to not bring up engagement until after the first of the year when hopefully the wait is over. Do you think since he knows me so well, he''ll know what I''d like? Should I break my oath and give subtle hints??

Thanks!!