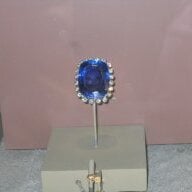 Joined

Sep 5, 2003
Messages

2,403
We recently found out that our 16 month old has a severe peanut allergy and a mild pecan one (mental note that a scratch test on a wild toddler is NO fun), so we now have an epi-pen and those Benadryl spoons.

This has really shaken me up, for some reason, as I feel totally guilty that perhaps eating peanut butter/peanuts (though I dislike pecans) during pregnancy and breastfeeding caused these allergies. And I'm also annoyed b/c we have no family history of food allergies- heck, I don't even have one single allergy, not seasonal or anything else.

Does anyone else have kids with food allergies? Just trying to figure out if our 3 year old can continue to eat peanut butter around him, etc.