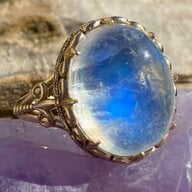 Joined

Mar 13, 2005
Messages

2,262
Puppmom's meditation thread really got me thinking.
Do you think there's such a thing as a twin soul? This is a person that you have known since the beginning of time, were separated from, and long to reunite with. Have you met him/her? The premise of this idea is that a long time ago, God/higher source created souls in his/her image. Everything was perfect in this higher consciousness but souls wanted to experience life in the human body. So they separated from their other half and travelled to Earth to learn their life lessons separately.
I've been fascinated by the concept of twin souls, soulmates, karma, reincarnation and past lives lately. It's a really interesting perspective of human origin and purpose.
The movie "Somewhere In Time" with Christopher Reeve and Jane Seymour really resonated with me. Maybe it's because I'm a hopeless romantic.
Feel free to tell me to lay off the pipe.