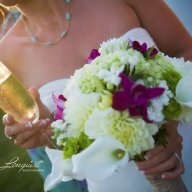 Joined

May 27, 2008
Messages

67
Hello,
I have looked at several of the DIY wedding invites and I am feeling totally inspired. I went to the Paper Source yesterday and I would just rather do them myself rather then pay someone 3xs as much to do them for me. I have a really good idea of what I want to do I am just stuck on the next step and how to actual print and assemble them.
I found the card stock I want, do I try to print them myself on my computer? Would Kinkos or Staples be a better choice? Same with RSVP cards? I can actually use my printer to feed these small cards into? I am also worried about getting the color right. Lastly, I found a wrapping paper I want to use as a "sash" around the middle of the invite. Would I use a glue stick to adher it to the invite?
We are on an extremely tight budget so I am trying to save where we can and this would be a fun project. I also am going to buy one of the stamps to add a pop of color to the invite as well (maybe a flower or a palm tree?).
You ladies seem so talented on here and I look forward to any advice you may have or suggestions. Buy the stock locally or online? Any online retailers you might suggest?
This is the link to the paper-souce of the paper I want to use as the sash. The card stock I want ona recycle textured antiqu white and the lettering would be "Pool". Almost the same color as the blue in the paper. I would also LOVE to do envelope liners with the paper. Are there templates for this? Or do you just cut and glue them on?
http://www.paper-source.com/cgi-bin/paper/item/Yuzen-Pool-Gold-Waves/3160.010/12441950.html
So many questions, sorry!!!!