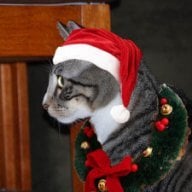 Joined

Dec 3, 2007
Messages

2,392
Three weeks to go and now I''m doing the "fun" stuff - putting together a schedule of events, fighting with FI''s dad about restaurants, etc etc.
But I do get to do the truly fun things now, like my super crafty DIY projects. Since we only have 8 guests coming, all couples, I''m only putting together 4 welcome bags and am putting quite a bit of time into each. Each welcome bag will have two greeting cards in it (what can I say, I like to make cards) and then each day the hotel will put a new card in the rooms.
First up, a generic "Welcome and thank you for coming" card. It will have the schedule of events inside of it.