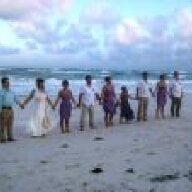 Joined

Jul 13, 2009
Messages

643
Not sure what to do about this....

My very good friend who I am a bridesmaid for is getting married on another continent. I love her, love to travel, and love destination weddings so I am very excited to go!

The bride & groom offered for the wedding party to stay for free in this lovely colonial mansion for 2 nights during our stay. They mentioned that they like everyone being together as most of the events will happen there. The mansion can be rented out in separate apts and I am trying to organize a group to rent out an apt for 2 additional nights since we will be in their destination for at least 4 nights. I asked the couple if any of the apts for us to rent are off limits since I know they were planning who would stay in what room. They said every apt but one is basically off limits cause they want family on one floor and friends on another. The layout of this one apt does not work at all for our group. One couple requires a bathroom in their room & in this one there are none and couples would have to sleep in separate rooms with little privacy for anyone. Every other apt would have worked fine except this one.

So my question is....Is it wrong to say "hey we will not take your offer to stay at the venue, we will just rent a house with other friends for our entire stay as we had already planned?" Or should I just suck it up and stay where my friend wants me to since it's her wedding? I know other couples in our room are not going to like this layout at all either. And in the end, it's my vacation too and I would love a private room with my husband. But I worry I am being selfish and not taking one for the team.

I know one solution is stay at their venue for 2 nights for free in a separate room than my husband or with another person in the room with us and move to another hotel for the other nights. That is maybe something I would consider but then I miss out on renting a house with my other friends and have to change hotels (which I hate!).