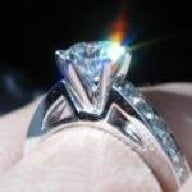 Joined

Mar 16, 2006
Messages

1,733
Argh!

I am supposed to be having a relaxing midwinter break from school but I am having apartment issues. I came back from a weekend in Baltimore to find that my wooden dining area flooring has buckled up! Ack, cathedral flooring! I think it''s moisture from the balcony area outside causing the problem, but the maintenance guys aren''t 100% sure where the problem is yet. I am looking at about a week of torn up floors and rearranged furniture to deal with this.
Ugh... and I hate that there could be people here without me being around. I don''t like strangers in my place when I am not here. I''m going to have to lock the cat in the bathroom everytime I go out so the guys don''t loose him on the rest of the building. It''s just extra stuff I don''t want to deal with right now...
My ex-fiance'' has been popping up to cause minor drama here and there, and I don''t want to talk to him even though he still wants to maintain contact. He dredges up the past and I want to move on, and he''s been weird about us trying to maintain mutual friendships with people we know. I guess if he wants to be that possessive, he can have them and I''ll move along, but still... I hate having to keep dealing with his insecurities now, weeks after he is supposed to be gone.
Though most of the wedding stuff has been taken care of, I am having a hell of a time cancelling my jr. bridesmaid''s dress and will likely be out 180 dollars on an unwearable dress that will eBay for less than half of that original cost. I still need to decide what to do with my other things like the gown and shoes, I''ll go to eBay or Craigslist or something like that. I am not keeping anything from this event if anyone wants something!

I have multiple guys who want to date me in my new single status. I am dating only one right now, and though I feel it''s only fair to focus on one guy at a time, I am having what I call "smorgasbord syndrome" - too many choices, between Match.com and other people I meet. I want to be settled and happy, and yet I am having these bursts of flightiness that interrupt the peace. It''s great that I can afford to be picky and wait for someone amazing, but I don''t want to lead anyone on at the same time...
Finally, my biggest concern is that my mom started cancer treatments. She had a diagnosis of a rarer colorectal cancer early this year, and has since had surgery to remove the growth her doctors identified. She began chemo and radiation this week and seems to have a good prognosis overall from her team of medical professionals because things were found at an early stage. Even if things were fine between me and my ex, I wouldn''t have gone through with a wedding this summer anyway had my mother not been feeling well. She''s doing fantastically well at this time, but I still worry about her dealing with the side effects.
Phew, load lifted.

Now to get the floors fixed! Thanks for letting me vent! I love you guys!