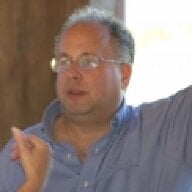 Joined

Jul 6, 2004
Messages

5,962
Dear Pricescope friends,

Though Kenny has recently named all of the guys, this question should work in the mirror just as well.

Whether or not you do the giving or receiving...in your household...do you have rules working, unspoken or otherwise, about how much your partner can spend on you, or you can spend on your partner...for a gift of any kind. And, yes, let's take jewelery for example!

As a general rule of thumb, for household decisions, we have an ostensible $100 rule. Actually, I've had to ask we reinforce that lately, because when guys come to the front door to offer to cut the bushes...she goes nuts. But otherwise, for elective purchases, that's a general rule of thumb.

Gifts work outside of that rule. We have a number, I think, that works for us routinely. So...maybe you do, too?

Question #1: do you have a "regular gift" spending limit/target?

Question #2: how about going beyond that? And if so, how would you?

At some dollar amount, to go above your limit for #2, would you need to consult with your partner before deciding to purchase the gift? Of course, this changes the nature of the gift (if consulting about it).

But...for those of you married folks where one checking account serves the purpose, purchases beyond a certain number are not just your decision, regardless of who receives and who gives the gift, right?

I can come back and share my numbers, but I didn't want to prejudice the query with my data. And, I do think setting up the question is the first order of business.

For some of you who have seen me whine over the years about my wife having ears that are not pierced...you'll know that repeated attempts to ask folks on the board if I couldn't get some sort of diamond clip on, I was just always told no.

But...now...she's just gone and done it. She has newly pierced ears. So...what can I do? Ok, you know what I can do.

How do you all decide how money for gifts are apportioned?

Thanks!

Regards,

Ira Z.

P.S. ..and, btw...I HAVE made a purchase today. So, while this is not academic for me, having gone through a mental process on this, I wanted to know how others have thought about this...