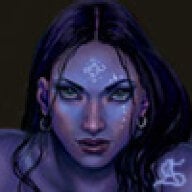 Joined

May 2, 2006
Messages

947
Hi all. I posted an introductory post back in May about me and my boyfriend of 5.5 years. Shortly after that post, I found out that he hadn''t been exactly honest with me concerning his graduation date. He''d been kicked out from the school we met at, twice, and wasn''t doing much better at the local community college. At that point, I just knew that nothing I could ever do would ever make him grow up. I had pushed, pulled, cajoled, supported, said nothing, and none of it did much good. He kept telling me he would change, or if I would only do _____, then things would work out. I stopped believing. I didn''t care so much about his degree, but the fact that he wouldn''t take action in
any
direction drove me crazy. That, combined with other incompatibility issues, led to me breaking up with him for good.
I guess all things happen for a reason. There was a guy at work who I, admittedly, had a bit of a crush on - devastatingly good-looking, intelligent, funny, hard-working, well-read - out of my league, right? We chatted once in a while and exchanged reading material. After my breakup, feeling bold, I invited him out to a 4th of July BBQ. From there, he asked me out (he had to ask three times since I was feeling uncertain about dating again, but I''m glad he was persistent!). Our first date was amazing, ending in the wee hours of the morning, and with a kiss

.
It turns out that
he''d
had a crush on
me
, ever since we first met. We''ve been with one another for a little over five months now, and I can''t help but fall more and more in love each day. I''ve never met someone who was so well suited to me. We enjoy the same activities, carry the same opinions, and even have similar habits (his best friend says I''m the female version of him). He treats me so well that it''s a joy to spoil him when I have the chance. Neither of us are romantic by nature, but I guess we just bring it out in one another - but shhh! We''ve vowed not to tell anyone so we can maintain our reputations.
I just know that this is the guy I''m going to spend the rest of my life with. I''ve even caught him, a couple times, when he thinks I''m sleeping, asking me to marry him.
I''m not ready to be put on the list yet, I have a one-year minimum dating before engagement anyways, but just wanted to say that now that I''ve finally found "the one" or "a one" or however you look at it, I''ll probably be around more often. For now, I''m just enjoying all the time I get to spend with the most amazing guy I''ve ever met (we''re going to Thailand together in a couple months!

).
Good luck to all the ladies waiting for a holiday engagement!