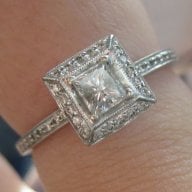 Joined

Apr 27, 2008
Messages

896
So I''m sitting here and my boyfriend is studying in our "desk" area. I was just shamelessly (



) browsing through BWW when I said, "I want to go wedding dress shopping!"
mark said- oh you will...
me- I want to now!
him- You will someday
soon
!
Ha now, I know we are not getting engaged for a while, but we got in a HUGE fight this afternoon before class, and this is pretty sweet and refreshing to hear.

Just thought I would share. This now jumpstarted conversation of my dress- woo hoo! haha