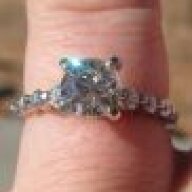 Joined

Nov 20, 2008
Messages

755
Hey ladies!
So... I keep seeing people who are saying their engraved invitations were $100-$300 more expensive than the cost of thermography-style invitations would be.
WHERE ARE YOU GETTING THEM?!

I have been looking at a very simple invitation from Crane & Co. that I love and will be very formal, and I''m in love with the idea of engraved invitations and having the die as a keepsake. But for only 75 invitations (I expect to send out about 6
I am seeing a total price difference of $500 or more dollars!! How is engraving so affordable for everyone else? Am I doing something wrong?
Any tips on how to cut down on the number of pieces I am ordering if the invitations and wedding will be pretty formal?? Is it totally tacky not to engrave envelopes if the invitations are engraved? Advice is sorely needed!