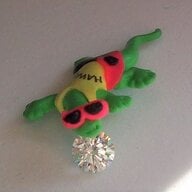 Joined

Jun 25, 2008
Messages

9,021
So. Preface. For those of you that know, I''ve been saving for bezel studs for AGES. And I finally saved enough to get the .25tcw. And I gleefully ordered them. And went to pick them up. And opened the box - and was underwhelmed.
This is NOT a commentary on the diamonds or the workmanship - both are
superb
. They''re gorgeous. They''re just... smallish. LOL. Which is how I wanted them. And yet.... After 5 months of saving, maybe I blew them all out of proportion to reality, but, I''m not excited to be wearing them.

Maybe I''m just not a stud person after all?

I examined them, deemed them gorgeous, and put them in. And.... ow. The posts are longer than I''m used to, and they''re kind of poking me a little, LOL.
So.
Now they''re on. And sparkling like gangbusters at every turn. Pretty darned gorgeous.
And ... I''m trying to make myself love them.
I think I just answered my question of how to proceed with that last statement, didn''t I?