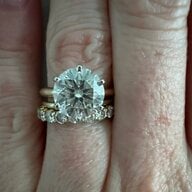 Joined

Mar 24, 2007
Messages

215
Hi everyone, I am new here! My SO and I have been together about 1.5 years and discussed marriage/engagement around Thanksgiving last year. Now, we''ve been friends for over 10 years, I''m 25 and he just turned 26. It''s about that time!
A few months ago, he started a "Ring Fund" for me, however he is really limited as far as his contributions towards it. Some of the reasons are he''s a teacher in NYC (hopefully will be getting a new higher paying job by home this fall), goes/pays for grad school and lives in an expensive apartment. For the past 8 months, his roommate and him have been splitting rent on a house that originally 3 people split. This is making my BF pay rent that is above his means. I was living in NYC, but moved back home so we can save money. He has the option of moving home, but does not want to, and his lease is up in May (but he says he''s renewing).
The issue is, is that we have diffeent ideas of what he should spend on my e-ring and the amount of money he could be saving by moving home. Originally he said $4000 for the budget, but honestly (and without sounding snobby) I wanted a bigger ring than that. I offered to pay the difference, but he''s particular in that HE wants to buy it himself and surprise me. Well, after some talks, we decided $6000 would be the budget. He''s only saving 100$ a month now, but will be getting a second job in the summer when school is on break for some extra money.
I ask him (probably bug him!) when he thinks we will be getting engaged, and he says next summer (200
. That''s fine with me, but he''s only saving 100$ a month right now! I don''t see how this is possible. He says that once he starts his new job in the suburbs he''ll be earning more, not spending so much on commuting, and also not have to put alot of his money towards classes since he wont be taking any in the fall. I just can''t get over that he could be saving so much more if he just moved out of that stupid house that is sucking him dry! I feel like I am the one saving all the money for our house/wedding, but it''s hard for me to understand and accept why he does not have alot of spare money right now.
Ok, well I am getting antsy and I want us to be engaged already. I know you ladies understand the impatience of waiting for something so special. I guess I had to get this off my chest.. ANy thoughts or similar experiences welcome!