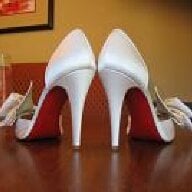 Joined

Nov 13, 2007
Messages

5,720
Little backround... I'm sorry this is long, but I'm just trying to cover all the bases. I would love honest opinions. If you don't want to read my "mini-vent" then the question is at the bottom

Beginning last year, my company offered every employee two PAID 8 hour work-days to go volunteer wherever we wish. It was preferred that we do it as a group, but we were allowed to do whatever we wanted.
I volunteer as much as possible so I offered to head up the project. I found a day shelter for the homeless here about 3 blocks from our downtown office, and about 3/4ths of my dept participated. (Apprx 12 of my coworkers donated 60 hours in one month!) Everyone that went enjoyed it and it was very rewarding. If you didn't want to work with the homeless, you could go on the "food prep" day, and just get everything prepared for the service days. Many coworkers that didn't have time to volunteer last year, said they were very excited about being involved this year after hearing everyone rave.
So, this year, corporate is pushing the same program. However, obviously something must have happened at another location last year, because there is actually paperwork this year. There was an approval process for the volunteer activity, and all employees are required to sign liability waivers. I have a feeling some offices weren't volunteering at official 401c(3) projects, so essentially that company got little to no benefit for paying thousands of employees to volunteer. They have also been very proactive in making sure the volunteer location submits all their paperwork as well, because our company will also donate a certian $ amount per hour volunteered when we are done.
Well, this year another dept is going to be volunteering with us, and all 14 employees in thier group submitted everything the very first day. In my dept, 6 of 17 people signed up/submitted to me thier forms. All of whom are coworkers that volunteered last year. One man in my office has decided to be extremely vocal about refusing to sign the liability release waiver. I just listened to him for the 2nd time say, "If I cut my hand I would never think about claiming the company, but if they're going to ask me to sign a waiver, then that's just ridiculous. I won't be a part of this." FWIW, last year this man was very vocal around the office about enjoying his time volunteering.
I am very putt off by this. No, you don't have to participate, but you also don't have to make sure everyone else in the office doesn't either. Volunteering is something I feel very strongly about, so I'm probably taking this a little too seriously, but why in the world would you try to convince other people not to help the homeless??? It's not like we're sky-diving for Hunger.
If your company was offering this program and you had the time in your workday to donate, would you sign the form in order to help the community?