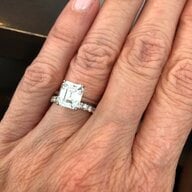 Joined

Feb 12, 2011
Messages

4,528
In the past I've seen numerous comments about the cost to consign with a retailer. I was recently fortunate enough to consign my emerald cut diamond ring with Grace. I sent it to her right after New Year's Eve. She in turn sent it to her bench to be polished and checked prior to listing it. The day it arrived at Grace's I cancelled my insurance because while it's with her my ring is covered under her business insurance. She advertised it on her FB and IG accounts. She has over 160K followers, more than I was going to reach on Loupe Troop. I'm happy to say in four months my ring was sold. Here's the part where I scratch my head when people start questioning the fees required for consignment, like she's making a mint from listing our jewelry, a ring I didn't purchase from her. She did all the marketing, she assumed all the risk, if the client wants to pay with a credit card, she pays the fees, she ships the jewelry to the new owner and for three days she holds their hand while they make their decision. Outside of using the label she sent me (which I paid for) I didn't have to do a single thing except to send her my paperwork and answer a few questions. I still have a ring on consignment and I hope it will sell soon too. But when I see my bill for 17% of the retail for selling my ring I'm pretty confident I got a great deal. I didn't risk dealing with someone I don't know, I didn't have to get a go between, and my ring sold quickly. Now, not every item will sell quickly, as I know this is not the first thing I've sold with Grace and some items take much longer. I'm still not paying for insurance while she has them, I'm not advertising and I'm not dealing with possible customers or scammers.

I'm posting this not because I was asked, but because I don't think people often stop to think about the value of this service and I've seen many posts talking about "well so and so is much cheaper". Grace could have sold the customer who purchased my ring something from her inventory, or found something for him versus marketing and selling my ring. Also, what she does is a service, and she's good at it. If anyone here is a doctor or lawyer do you drop your fees when you are still doing all the work regardless if you have bills to pay, a family to feed or a car payment.

I've been asked things like did she give you a discount? How much did she charge you. Here is what I would tell you and anyone who asks. I don't ask for discounts and I pay the fees. My husband is a partner in a firm where he employs people. Has he done things for friends for discounts, sure… but as a whole he has a billable rate and he bills at that rate because their business (he has a partner) has to pay the rent, utilities, insurance, payroll, benefits, etc. and the list goes on. His time and his partner's time is money to the business. If he's giving his time away for less and it takes away from the time he has to work on the priorities of the business he's not being fair to his partner.

I often find it entertaining as a group of jewelry lovers and part of this forum some people think they are entitled to a discount. I've used Victor Canera for two settings and I'm toying with a forever setting for my new EC. I'm not planning to ask for a discount, nor do I think he would provide me with one, why should he? Erika Winters is also a designer I'm considering. I own three of her bands and my OEC that is for sale is in one of her settings. I'm not planning to ask Erika for a discount. I'm 100% sure there are people on these forums that have spent way more with both these designers, I'm not entitled just because I own their pieces.

One of things that happened while my ring has been listed with Grace are the people who will contact me and ask that I remove the listing so it can be sold to them at a discount. In one instance the person made this request directly to me via email, I declined. They did eventually work with Grace to receive the ring and decided against it. Imagine if I had cancelled my listing with Grace where I would be! Fortunately Grace shipped the ring for the potential buyer's consideration and she managed the process of getting the ring returned to her in time for a trade show. I didn't lose one moment of sleep or worry. She has it under control and she received all the messages and answered the questions for the potential buyer. That is why she receives her fees it's her business and she's good at it. I'm disappointed in the people who attempt to work around her, while also pretending to be a customer. Most of us give notice before we list our rings on preloved so there was an opportunity prior to the contract I signed with Grace. Timing is everything, but a business agreement is just that. It doesn't matter if it is Grace, LAD or others here who offer this service, it is a business that is used to pay bills, feed families, and if you're into jewelry watching and also waiting to see how these dealers use their profit for the next wonderful finds so you can buy more.

Everyone loves a deal. But not everyone is desperate to sell and willing to sell at a deep discount or treat the people they value with little regard. I will wait. My diamond and my setting will sell. The right person just has to fall in love. Just like I did when I flew to Miami to see her.