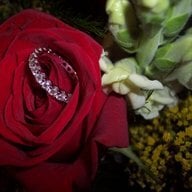 Joined

Dec 18, 2007
Messages

3,793
Hello ladies - my wedding is scheduled for December 5, 2009

Since it will be near to christmas, i would liike it to be a wintery wedding theme. One thing i absolutely do not want is anything that looks too christmas-y, so any kind of red/cranberry/green dresses for the girls is a no. We have talked about it, and i've narrowed it down to two ideas:
1. blue (peacock blue or teal) and silvers. If we go this way, i would have everyone pick their dress style same color and was thinking of adding a unique sparkly pin/brooch to each dress. If we go this route, the girls will wear silver shoes and i will wear shoes the color of their dresses (thanks New England Lady!!!).
2. or all champagne/silver/gold. the ladies would be in champagne and i would keep the dresses more uniform so it was all muted and wintery. My problem is i think in december it might be hard to pull off champagne on everyone, and you might need a bit of color somewhere, since it's grey outside all over.
Either way we go, the theme of the wedding will be lots of candlelight, some wintery branches and silver/sparkly items all around. I am wondering what you all think would look better - do you think you need a color to spice it up - aka peacock blue? Or do you think it would be better to keep it all soft and metallic in the champagne family? I am a divided camp on this and cannot decide.....any input would be great - thanks!
I'll attach a picture of one of my bridesmaids in each color and an inspiration picture for the decor - you let me know what you think about either approach if you have the time - thanks!!!!